LESS IS MORE: THE MULTIPURPOSE PENCIL
Disguise blemishes, make red eyes look wide awake, prevent your lipstick from bleeding and make it stay put all day – can you imagine all this done with just one product and also being natural?
Natural Wooden Makeup Definer multi-tasking marvel pencil comes to rescue!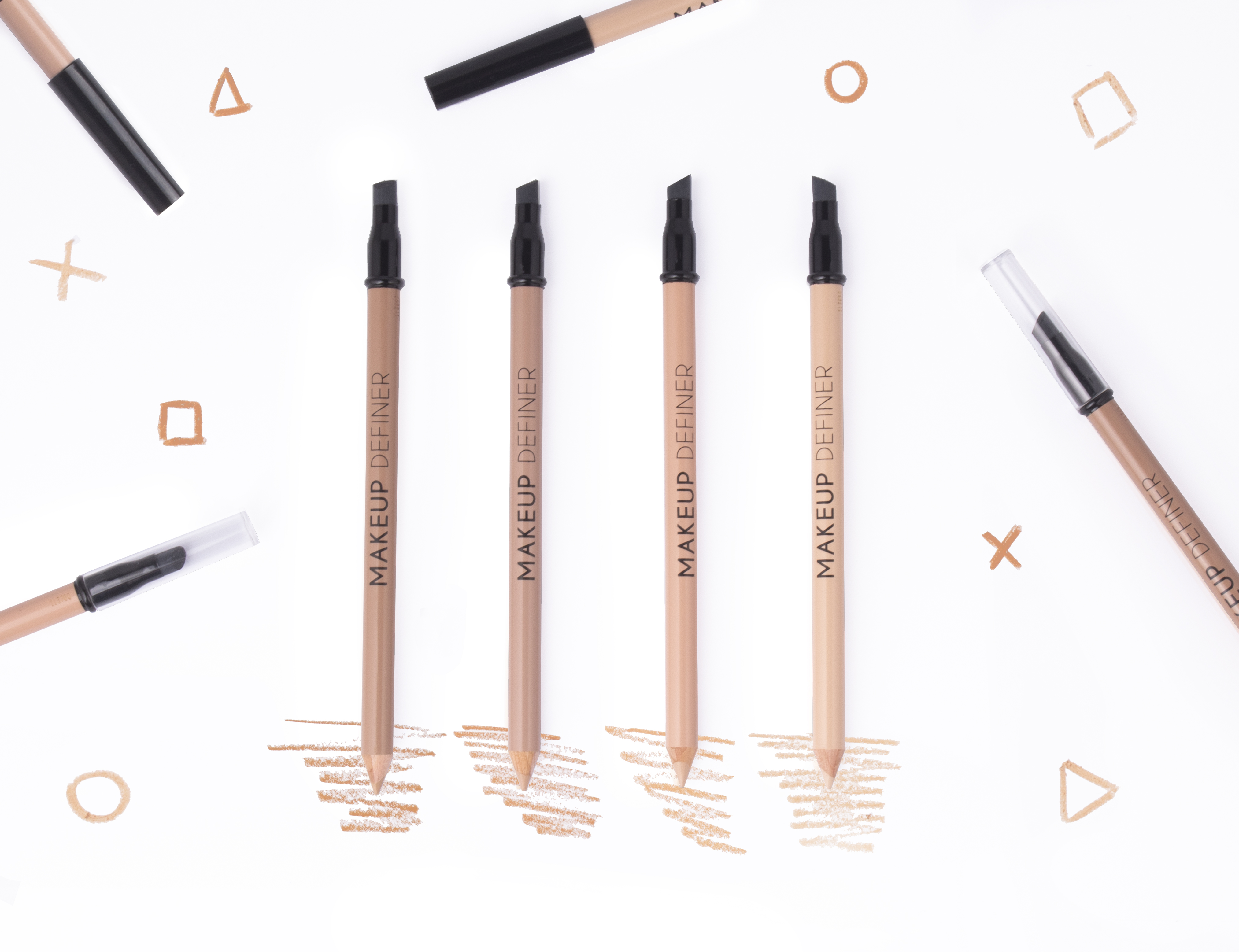 Its formula is so versatile, that you can use it as a liner, concealer or highlighter: all-in-one. Of all this and much more is capable of this fascinating universal very high precision, good pigmentation and easy to blend pencil.
Among its different applications, our Makeup Definer is ideal as Inner Highlighter. An Inner can be used as a highlighter when in light colours, which make the eyes look bigger and the look more clear and clean.
On the other hand, eyebrow pencil profiling is a trend that is, defining the shape you want to give the eyebrow before trimming. In addition, by highlighting the original shape of the eyebrows, it adds a personality to the face. On the contrary, if preferred, the definition of a symmetrical and perfect form brings harmony and proportion.
| | |
| --- | --- |
| Without Product | With Product |
| | |
Apart from defining lips' shape with a colour lipliner, you can also use Makeup Definer to delimit with precision so lip's outer line is accurately marked. It can also be used to mend any imperfection from the lipliner, it's super versatile!
Spots, redness, … there is nothing that can resist to this pencil because it can also be used to cover imperfections. Applying our Makeup Definer on top of the zone that needs to be covered and thanks to its soft sponge to blend, these little imperfections will disappear in a few seconds. What else can you ask for in a single product?
| | |
| --- | --- |
| Without Product | With Product |
| | |
And the star application of our Makeup Definer is to define the eye shadow. Applying a stroke of a shade lighter than the skin, from the end of the eye to the tip of the eyebrow, and blurring with the ferrule incorporated into the pencil, a much cleaner and more professional makeup is achieved. With a simple touch you can transform any makeup. This is the right product to bring variety and new approach to the cosmetic line.
| | |
| --- | --- |
| Without Product | With Product |
| | |
And what about the ingredients?
A good pencil must have great sensoriality and a quality formula like our Makeup Definer. A soft texture formulated with vegan and natural ingredients. Let's see some of them...:
Jojoba oil: Considered liquid gold, it is an excellent liquid wax for skin care.
Candelilla wax: obtained from the Euphorbia Cerifera bush, it is hard, consistent and with a slight degree of stickiness that makes the product remain on the skin longer, but without an unpleasant sensation.
Carnauba wax: Obtained from the leaves of Copernicia Cerifera. It is one of the natural waxes with the greatest consistency, but at the same time it is plastic and flexible, just what is needed for a good application on the lips.
Shea butter: It is obtained from the fruit (nuts) of the shea tree. It is mainly composed of triglycerides, fatty acids, cinnamic acid esters... and contains vitamins (A, D, E).
Olive oil (unsaponifiable): One of the most prestigious resources in the Mediterranean, obtained naturally from olives after removing the portion of saponifiable oil. It is rich in squalene, beta-carotene and alpha-tocopherols, which make it an excellent emollient.
Soybean glycine oil extracted from wild soybeans. It has emollient, moisturizing and antioxidant properties.
Squalene oil of plant origin extracted from olive oil. It acts as an emollient.
Vitamin E: Tocopherol, powerful antioxidant that helps protect the formula and provides protection against free radicals.
Perfect to join the natural beauty trend!
Do not miss the video tutorial we have done:
Related posts
---